Please note this information is correct at the time of publishing
Local Administrator (LA) bulletin – 17 December 2021
Latest Company Communicator message
We have been working with health and care staff to create guidance and digital tools to help you make the most of the technology available to you.
To celebrate the 12 days of Christmas, here are 12 of our highlights from this year.
Visit our NHSmail support site for much more and to find out what's coming soon.
Notification updates and LA monthly summary
This month, two new capabilities will be added to NHSmail as part of the Wellington release with a new notification and monthly summary being sent to Local Administrators (LAs).
Notifications for mailbox delegated rights
When a Local Administrator (LA) adds or removes delegation rights to a mailbox, the mailbox owner and users who have been granted access rights will receive a detailed notification by email. This change will ensure transparency and allow users to track what permissions have been assigned to which users and by which LA.
Monthly permissions summary for Local Administrators (LAs)
Local Administrators (LAs) will receive a monthly email with a summary report of shared mailboxes, resource mailboxes and distribution lists from their organisations that do not have an owner and, therefore, cannot be accessed by users.
The monthly report will be provided in CSV format, covering all relevant organisations per LA.
NHSmail O365 shared tenant information governance webinars and Teams channel
The NHSmail O365 Shared Tenant IG webinars started in March 2021, since then we have hosted 7 webinars, supporting organisations with IG related NHSmail topics.
A Teams channel was created to publish the recordings of the webinars and to share information and queries with this community, which currently has over 700 members.
Existing members can request to add new members, or simply click this link to join. You will be presented with the Join option shown below, simply click join and you will see a similar screen confirming your request was sent.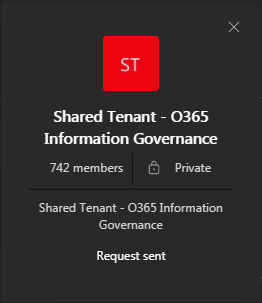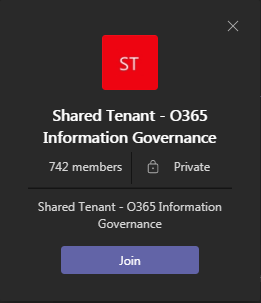 The NHSmail Data Protection Impact Assessment, Transparency Notice and Joint Data Controller documents have been updated and published to support our users. Further details can be found on the NHSmail support pages.
Latest stats and product updates
NHSmail refresh
Following the migration of a little under 2 million mailboxes and just under 2 petabytes of data to Exchange Online in 2020, we completed the decommissioning of our on-premise datacentre infrastructure alongside other mop up activities 2021.
1,000+ bits of legacy hardware decommissioned and removed from the NHSmail datacentres
Averaging 3 million plus emails processed a day by the high-end solution
Teams adoption and usage
Throughout 2021, we have continued to see strong and increased usage of Microsoft Teams to support the way our teams are working.  Between 01 January and 13 December 2021, Teams hosted:
254.4m chats
61.7m meetings
28.1m calls
This represents the equivalent of 5,610,409 hours of staff time saved to focus on other activities.
Teams Cloud Video Interoperability (CVI)
The Teams Cloud Video Interoperability (CVI) service enable users to join Microsoft Teams calls from video teleconferencing (VTC) devices. Teams CVI went to general availability in July 2021 and since then we have since seen a steady increase in uptake of the service.
300 organisations use Teams CVI with approximately 1,100 active devices seen on the service during November 2021
Over 3000 calls have been made since the service was implemented with 73, 230 minutes of calls to date
Find out more about Teams CVI and how your organisation can use the service here:
https://support.nhs.net/knowledge-base/teams-cloud-video-interoperability-service/
NHSmail Intune
NHSmail Intune is a cloud-based centralised Mobile Device Management (MDM) service. In 2021 we completed delivery of phase 1: mobile devices (iOS, Android and iPad OS), and phase 2: Cloud only AAD join for Windows 10 and HoloLens2. Phase 3: Windows 10 hybrid join model, Cloud only + identity SSO model, and Mobile Application Management is due in Q1 2022.
We now have 35 orgs, with over 2,000 devices on Intune and growing as they onboard their device estate
170 organisations with over half a million devices have expressed an interest in using NHSmail Intune
60 organisations are scheduled for onboarding during January – March 2022
Find out more about NHSmail Intune and how your organisation can register for the service here: https://support.nhs.net/knowledge-base/nhsmail-intune-service-overview/
Power Platform
Part 1 of a project to enable Power Platform functionality and service on the tenant was completed in September 2021, and Power Platform has seen high uptake since the project was completed. We have enabled new features on the NHSmail shared tenant to empower you and your users with more functionality (subject to licence requirements!).
New functionality made live in 2021 includes:
Power Automate with Attended RPA
Power Virtual Agents
Business Process flows
AI builder
There are 911 app makers and 1501 flow makers who have created:
2662 apps created via Power Apps, and;
6113 flows created with Power Automate
33 Bot Maker have made a total of 39 Power Virtual Agent Bots!
Part 2 of the Power Platform project is scheduled for early 2022, so watch this space!
For further information on Power Platform please visit the NHSmail support pages.
https://support.nhs.net/article-categories/power-platform-guidance/
HoloLens2 and Dynamics 365 Remote Assist
A Proof-of-Concept project to enable the use of HoloLens2 was successfully completed and HoloLens2 devices can now be onboarded via Intune. We expect this area to really take off in 2022 with this technology increasingly mainstream.
There are 22 HoloLens2 on the NHSmail shared tenant across 6 organisations
Find out more about HoloLens2 on the NHSmail support pages:
https://support.nhs.net/article-categories/remote-assist-for-hololens-guidance/
Virtual Visits
Virtual Visits is a virtual consultation tool which uses Microsoft Bookings and Microsoft Teams for managing and conducting virtual consultations.
We have been directly working with users to understand how they use the functionality, how we can support them to improve the user experience and to understand future enhancements users would like to see.
Based on the feedback received, the NHSmail support site for Virtual Visits has been updated. The guidance outlines the benefits of using Virtual Visits, how users can get the most out of it and how organisations can start using the functionality today. The user guide section has also been updated with short video guides.
We will continue to work with our partners at Accenture and Microsoft to develop future enhancements.
Teams Phone System for outbound calls
Microsoft 365 Phone System and Calling Plan licences for participating GP practices
To support GP practices with legacy telephony systems, Teams Phone System for outbound calls is being enabled on Microsoft (MS) Teams for some organisations.
This service enables Microsoft 365 Phone System and Calling Plan licences to allow users to make anonymised outbound only calls independently of their existing telephone solutions. This will free up the existing lines for incoming calls.
This feature is reserved specifically for GPs, Local Administrators (LAs) should not assign Phone System or Calling Plan licences to any non-GP staff following the initial rollout. This will be audited and monitored across the platform.
Practices that are part of the NHSmail shared tenant and have expressed an interest in onboarding to Teams Phone System for outbound calls will automatically be given access to the capability. If you are part of a GP practice that would like to participate and have not yet expressed an interest, please contact scwcsu.nhsei.winterpressures.advancedtelephony@nhs.net citing your practice name and ODS code.
Please see the Teams Phone System for outbound calls – guidance for Local Administrators for further information.
Troubleshooting tips and further guidance is available in the Frequently Asked Questions section. The guidance available for your user base which can be reused is available in the User Guide.
End of year sign off
Big thanks go out to the extended support teams of NHSmail Administrators and SMEs who have helped change the landscape across the wider health and care system. Together we have introduced new and exciting tools which will help to enable more people to securely connect, communicate and collaborate than ever before.
We all recognise that the success of the changes we are implementing are dependent on the professionalism and commitment that this community brings to the delivery of this vision every day. Thank you from the NHSmail Live Service team for all your support throughout 2021. We look forward to working with you all to build on this great start throughout 2022.
John McGhie & Chris Parsons
Best wishes,
NHSmail team

| | |
| --- | --- |
| Last Reviewed Date | 24/12/2021 |