1. NHSmail Intune Service
NHSmail Intune is a new, cloud-based centralised mobile device management (MDM) service. The NHSmail Intune solution will centralise device management under the NHSmail shared tenant, while maintaining a high degree of customisation, oversight and local autonomy for organisations.
NHSmail Intune is now moving to general availability with the following device types supported; Android, iOS/iPadOS, Windows 10 (and later) and HoloLens 2.
Future releases will follow and include a Windows 10 Hybrid solution which will allow organisations to continue to consume On-Premises resources (e.g., printing and network storage drives), whilst enabling organisations to adopt the NHSmail Intune Service and the benefits associated with cloud device management.
The NHSmail Intune solution will be configured to provide a core set of centrally managed security policies, settings and applications that will be common across all organisations. Local Administrators (LAs) will be able to set up their own Groups, policies, profiles, and apps on top of the centrally managed settings through the use of custom Role Based Access Control (RBAC) permissions.
1.1. Prerequisites
Some prerequisites need to be met by organisations before onboarding can begin. These include having procured EMS E3 and AADP2 licences for all users, being able to connect Apple Business Manager (ABM) to NHSmail Intune (for Apple devices) and meeting the minimum Operating System requirements.
For the full list of prerequisites required, please see the NHSmail Intune Terms of Reference (ToR).
1.2. Supported devices
Android , iOS/iPadOS, Windows 10 (and later) and HoloLens 2 will be supported across corporate clinical and non-clinical devices. 
1.3 Additional information
For more information on the NHSmail Intune Service, please refer to these Introductory Packs:
2. Registering your interest
In order for us to understand more about how we can best support organisations to onboard onto the NHSmail Intune Service, we request that all interested organisations register their interest.
The onboarding of organisations onto the NHSmail Intune Service will be through a phased approach, so it is important that you submit your intent through the Intune Registration Form to be considered for this service.
To register interest, please nominate a PLA/LA from your organisation to complete the Intune Registration Form. After you click on this link, if prompted to log in, please use your nhs.net credentials.
You should then see the screen shown below. Select the Intune registration tile to access the form (shown below).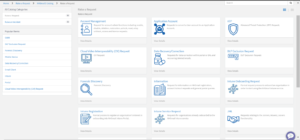 Completing this form with details about your organisation will help us understand your requirements so we can schedule the onboarding of organisations.
3. Next steps
You will receive a confirmation of submission email once you have completed the Intune Registration Form.
If your organisation meets the prerequisites to onboard onto NHSmail Intune, you will then be notified of an available onboarding slot. This slot will be as closely aligned to your organisation's requirements as possible.