1. NHSmail Intune Service
NHSmail Intune is a corporate mobile device management (MDM) service that is integrated with existing NHSmail capabilities and natively supports the multi-organisational nature of NHSmail. NHSmail Intune provides centralised device management capability and allows organisations to maintain a good degree of oversight and local autonomy over their Android, iOS/iPadOS, Windows 10/11 and HoloLens 2 devices using Role Based Access Controls (RBAC).
NHSmail Intune's configuration provides a core set of centrally managed security postures, settings, and applications for easy policy assignment, however organisations can also customise their own groups, policies, profiles, and apps alongside the centrally managed settings by using custom RBAC permissions.
1.1 Key Features
If you are new to NHSmail Intune and want to understand more about what the service can offer your organisation, you can review the Introductory Packs below to learn more:
Download the full Step by Step Guidance and Learning PowerPoint presentation on Introductory Pack
1.2 Key Benefits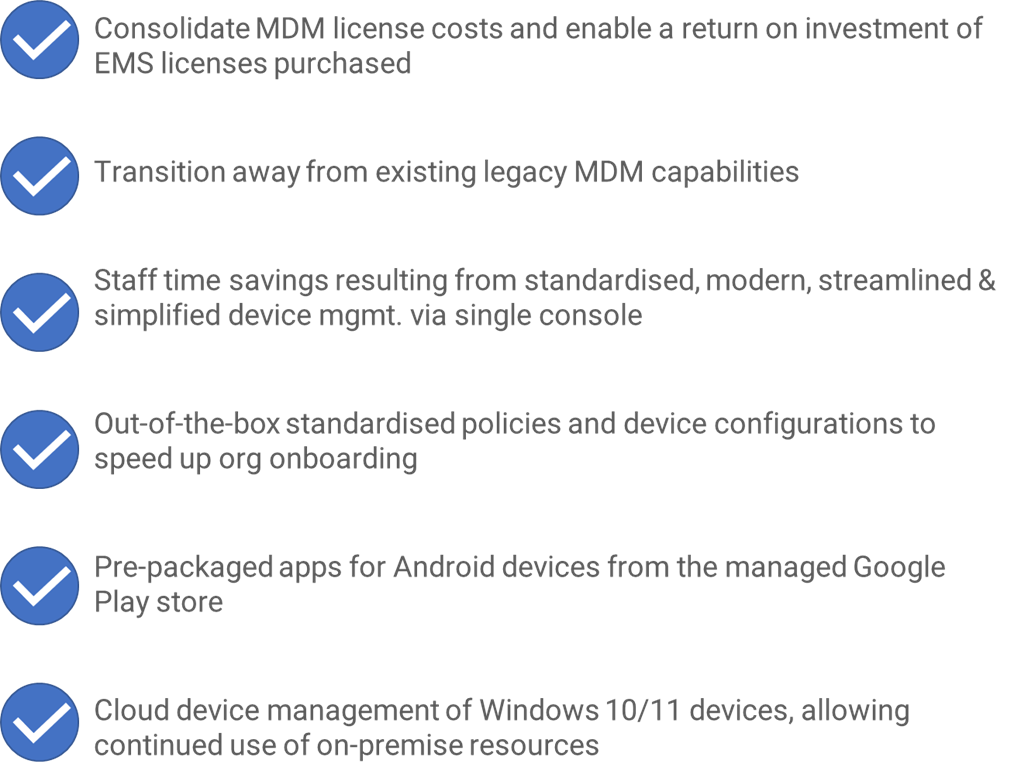 1.3 Prerequisites
The following are prerequisites for onboarding onto NHSmail Intune:
Procurement of EMS E3 and AADP2 licences for all users
Being able to connect Apple Business Manager (ABM) to NHSmail Intune (for Apple devices)
Meeting the minimum Operating System requirements (Win 10 / Android OS 6 / iOS 7, HoloLens 2)
2. Registering your interest
| | |
| --- | --- |
| | We onboard organisations every month and have slots available now |
| | Simple 3-step process to onboard and begin using the platform |
| | You can test the platform to decide whether NHSmail Intune is right for your organisation |
| | Registering your organisation's interest is not a commitment to fully onboard onto the service |
To register your interest for onboarding to NHSmail Intune, please nominate a PLA/LA from your organisation to complete the Intune Registration Form.

Completing this form with details about your organisation will also help us understand your requirements.
3. Next steps
You will receive a confirmation of submission email once you have completed the Intune Registration Form.
If your organisation meets the prerequisites to onboard onto NHSmail Intune, you will then be offered a provisional
onboarding slot.
You will be given access to the Intune SharePoint site. This will allow you to update your organisation's data in real time and provide additional information relating to onboarding.
| | |
| --- | --- |
| Last Reviewed Date | 27/02/2023 |