This article provides guidance for Phone System administrators to access an overview of their organisation's Calling Plan usage data. The reporting capability within the Phone System PowerApp will provide admins the functionality to track minute usage, licence consumption and individual call data, for their organisation.  Email alerts will also be generated to Phone System admins when total minutes used hits 80% and again at 100% of minutes used for their organisation.
This article will outline:
Accessing Calling Plans Reporting Dashboard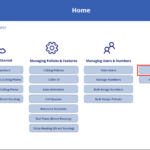 1. Once logged into the Phone System PowerApp, select 'View Dashboards' from the homepage.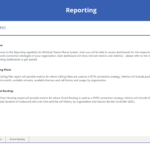 2. This will direct you to the Reporting home. You will see a brief description of the different dashboard reports that can be accessed, based on your organisation's chosen PSTN (Public Switched Telephone Network) connection strategy.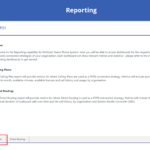 3. Select the 'Calling Plans' button to access the Calling Plan dashboard report (alternatively, the tabs on the bottom of the screen can also be used to navigate).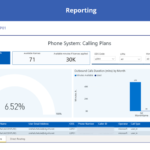 4. You will be directed to the Calling Plan dashboard report.
Viewing the Calling Plan Reporting Dashboard Data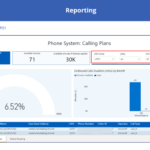 1. Within the Calling Plan dashboard report, there are a series of filters in the top right. You can use these to filter the report data by organisation (ODS), user (UPN), month and year.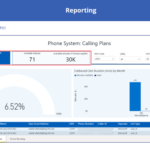 2. Across the top, the remaining minutes for the month (for the selected organisation(s)) will be shown, in addition to the number of available licences and the available minutes should the licences be used.
3. A usage gauge is provided, which outlines the percentage of minutes used by the organisation. The percentage gauge uses a traffic light system to indicate the total usage as per below:
| | |
| --- | --- |
| Colour | Percentage of Minutes Used |
| Green | Less than or equal to 79% of monthly usage |
| Amber | Greater or equal to 80% but less than 100% |
| Red | Greater than equal to 100% but less than 120% (indicating organisations have hit their limit and used all their minutes) |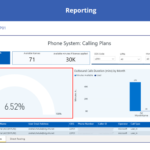 4. A bar chart is also included in this report, to provide a comparative view of minutes available vs minutes used from outbound calls.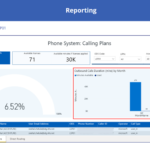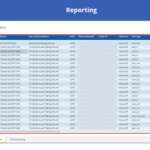 5. Scrolling down on the report will provide a table view of individual calling data, showing information pertaining to each call made (including year, month, day, user details, ODS, phone number, caller ID, operator, call type and destination dialled, etc.. Scroll across to the right to view more).
| | |
| --- | --- |
| Last Reviewed Date | 13/06/2022 |