Introduction
This guide supports organisations wanting to onboard to the NHSmail Teams Phone System and focuses upon the requirements to start using Direct Routing.
Direct Routing is a way to provide connection to and from Microsoft Phone Systems to the Public Switched Telephone Network (PSTN). It allows you to make and deliver calls externally by connecting a third-party telephone system using a supported and customer-provided gateway (Session Border Controller) to enable voice calling features.
This article will cover:
Prerequisites
To utilise Direct Routing on the central tenant, organisations will need to consider two major pre-requisites in the form of
(1) Phone system licensing/confirming line rentals with their Session Initiation Protocol (SIP) provider, and
(2) gaining access to the central NHSmail Phone System PowerApps interface.
Licencing
Organisations are responsible for the procurement, onboarding, and assignment of the licences to users via the NHSmail portal (for more information on this, click here).
Infrastructure
A supported Session Border Controller (SBC)
SIP Trunk to Internet Telephony Service Provider (ITSP)

ITSP provided phone numbers – Direct Dial Ins (DDIs)
SIP Provision
It is the responsibility of each organisation to engage with their chosen SIP provider directly for  line rentals and calling packages. Each SIP provider will have different rates and calling packages, and this will need to be agreed between the organisation and the chosen provider. Once this has been agreed upon, the provider will need to provide the organisation a list of phone numbers (DDIs) used (i.e., in .CSV format), for these to then be uploaded to the NHSmail Phone System PowerApp, to be assigned to users. For more information on how to do this, please see the below section on Number Management.
To Onboard to NHSmail Phone System PowerApp via Helpdesk Self Service (HSS) form
Once your Phone System licenses have been procured and assigned via the NHSmail portal, your organisation will need to gain access to the NHSmail Phone System PowerApp. Instructions on how to do this can be found below.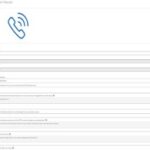 1. Local Administrators (LAs) from organisations must first navigate to Helpdesk Self Service (HSS) and go to the 'Phone System Request' form.
2. On the Onboarding form, select 'Onboarding to Phone System request' for request type.
3. Complete the rest of the fields required in the Onboarding form. You will be asked for a brief description of the rationale for onboarding, the PSTN connection strategy that will be used, the organisation ODS code and the emails of other users who will require access to the Phone System application to manage Phone System features for your organisation.
4. Once the onboarding form has been submitted, a confirmation email and subsequent email updates on the progress of your request will be sent.
5. Once the onboarding request has been completed, to access the Phone System PowerApp, follow the steps below (these will also be provided via email once the Onboarding request has been completed):
a. Open a web browser and access the following URL (this is required for the very first login): https://nhsmailprod.crm11.dynamics.com
b. Access Phone System App – https://apps.powerapps.com/play/8a521730-27a3-464c-b09d-3798e62ee61c?tenantId=37c354b2-85b0-47f5-b222-07b48d774ee3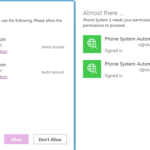 c. On the fix connection popup, click on the fix connection links, sign in (if required) and then select 'Allow' to proceed.
6. Please note, that for your selected phone system administrator users to be able to access the reporting capability within the Phone System PowerApp, Local Administrators (LA role assigned), will need to go to the NHSmail portal and assign these users a free PowerBI license.
Number Management | Direct Routing – Upload numbers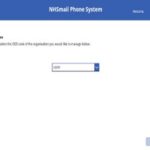 1. When logging into the Phone System Application, Local Administrators will be required to select a single organisation identified by ODS code to manage. A dropdown will present the approved ODS codes via the HSS process that the administrator has permission to manage. Once an ODS code has been selected, admins are able to log in to the Phone System PowerApp interface.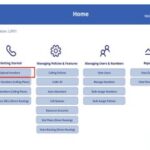 2. On the homepage, under 'Getting Started', select the 'Upload Numbers' .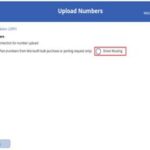 3. You will be directed to a page to select the PSTN connection for upload. Select 'Direct Routing' for this option.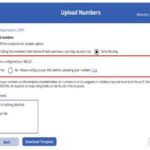 4. Confirm you have configured your SBC's by selecting 'yes' to the question 'Have you configured your SBC(s)? If you have not configured your SBC's, you will be unable to proceed. Please refer to article (linked here – SBC (Session Border Controller) Configuration) for more detailed guidance on the steps for configuring and setting up SBCs.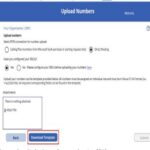 5. Download the template by clicking the 'Download Template' button, to obtain a CSV template for your numbers (please find template attached here).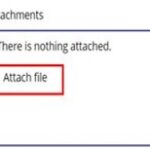 6. Proceed to attach and upload your phone numbers in a CSV format.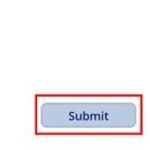 7. Click 'Submit' to process all options selected and to upload your phone numbers.
8. After submitted, you will be directed to a page confirming 'your phone numbers have been uploaded successfully'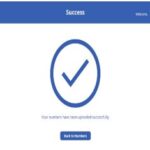 9. You will be provided the option to view the numbers uploaded by selecting 'Back to Numbers'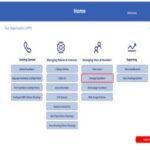 Alternatively, this can be navigated to via the main homepage by selecting 'Manage Numbers'.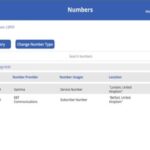 10. The numbers page will display all Phone numbers, the Number Provider, the location, number usage and assignment status
| | |
| --- | --- |
| Last Reviewed Date | 13/06/2022 |