Overview
For NHSmail Organisations who are using the Audio-Conferencing dial-in licence as part of their User Policy configuration, the MS Teams dial-out capability is now available to be switched on for international calling for any countries and regions outside of Zone A list (Country and region zones for Audio Conferencing – Microsoft Teams | Microsoft Learn).
For more information on Teams dial-in, please see the related article: Guidance for Teams dial-in.
By default, if you assign a dial-in licence, national dial-out conferencing will be switched on automatically. This will be the default behaviour which users of the platform will have been using and experiencing within the MS Teams application. The national dial-out conferencing cannot be disabled independently from the Audio-Conferencing dial-in licence.
Dependencies
Audio-Conferencing Dial-In licence
How can these be applied?
User Policy Level
Dial-out nationally and internationally can be enabled at a user policy level, this has a dependency on the user policy to have a dial-in add on licence applied. By default, when dial-in conferencing is enabled, dial-out nationally will be automatically switched ON and cannot be turned off.
If dial-out internationally is required, this can be turned ON by Local/Primary Local Admin and managed via the User Policy Management page in Portal. Please note, when the international toggle is switched ON, the national toggle will be automatically switched ON to enable users to call within the country and regions within zone A and countries and regions outside of zone A.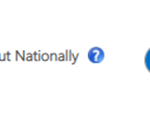 The screenshot shows the default behaviour of these settings being applied at a user policy
Organisation Level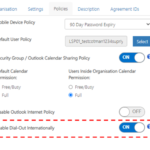 By applying the international dial-out option at the organisation level, this will find all user policies of your organisation which has a dial-in licence applied to and apply the relevant international settings to all user policies under the organisation. This is done in bulk across the organisation.  All policies will then have the international settings switched on which can then only be managed at the organisation level and cannot be switched off at the independent user policy level.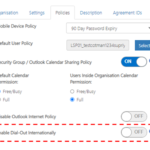 If the international toggle is switched on at the organisation level and a Local Admin/Primary Local Admin decides they would like to switch this off back to the default of national, the updates to the dial-out settings per dial-in user policies will be all reverted to national and must then be managed at an individual user policy level.
| | |
| --- | --- |
| Last Reviewed Date | 03/03/2023 |