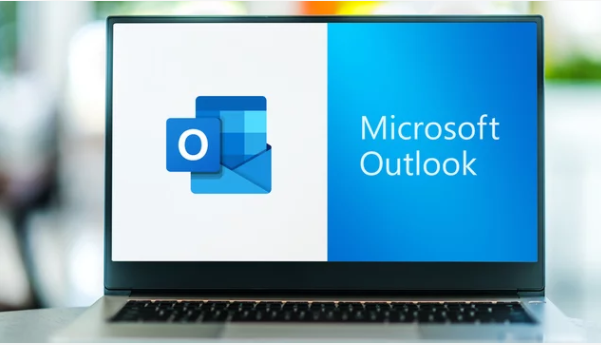 There are a number of useful new features in Outlook Web App 2013 which will enhance your ability to use your email
Viewing emails by Conversations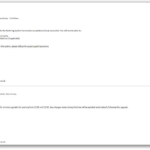 The Conversations view groups messages and their replies in a single view, or conversation. All the messages in a conversation are displayed in the reading pane, no matter what folder they are stored in. For example, if you have received an email and then replied to it, the messages will appear above one another in the reading pane.

By default, conversations view will be enabled
To disable conversations view: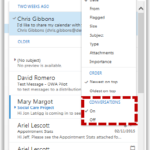 1. Click on Conversations by Date in the top left of the viewing pane and select Off
By disabling conversations view
Ignore conversations
To keep on-going email threads out of your inbox you can choose to ignore conversations started by others. For example, you may wish to ignore on-going conversations following a mailing list post. Ignoring emails will remove all emails related to that conversation from your inbox and will redirect them to your Deleted Items folder.
To ignore conversations: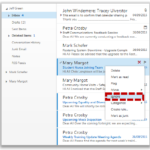 1. Right click on an email in your inbox and select Ignore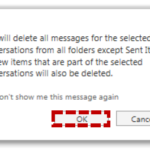 2. Click OK on the pop-up box to confirm that this conversation will re-direct to your Deleted Items folder
For support on how to restore these message conversations, please refer to Recovering a deleted item in the user guide
Apps
Apps are new to Outlook Web App 2013 they work by analyse the content of incoming emails and automatically propose actions you might want to take. Refer to the Apps module of the user guide for more information.
Linked contacts
In Outlook Web App 2013, If you have two contact entries in your contact list for the same person, you will be able to merge all of the contact information into a single contact card to avoid duplication in your contact list
To link two contact entries: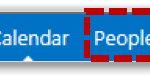 1. Click People in the navigation bar at the top right of the screen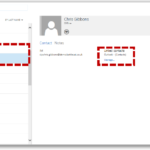 2. Select the contact you wish to manage and view the contact card on the right side of the screen.
3. Click Manage… under Linked contacts on the contact card
If there is a suggested linked contact, it will appear under Suggested links in a new window
4. Select the suggested contact name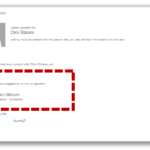 If there is no linked contact suggestion, you can search for a contact to link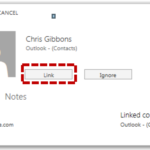 5. Click Link
6. Click OK at the top right of the screen to close the window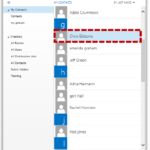 The contact will now show as a single entry in your contact list
If you wish to ignore the suggested linked contact, click Ignore
| | |
| --- | --- |
| Last Reviewed Date | 4/4/2019 |