Do you use a mobile device to access NHSmail? If so, please read this guide for steps on how to re-set up access following your upgrade.
If you are using the built in iOS or Android mail application on your phone you won't need to do anything – your emails should start to sync immediately, and you can continue working.
If you use the Outlook application on your mobile device, you will need to complete a few additional steps to get it working following your upgrade. These will be slightly different depending on the version of the application you have and the device you are using.
The basic steps on how to do this are included below.
Using an iOS Device:
 Open your Outlook application on your phone.
Select the your NHSmail account by clicking on the account icon on the top left-hand corner of the screen
This will open out a new pane, click the cog icon at the bottom of the screen
This will show all your email accounts
Click into your NHSmail account
Select the option to 'Delete Account' – don't worry this will just delete if from the mobile application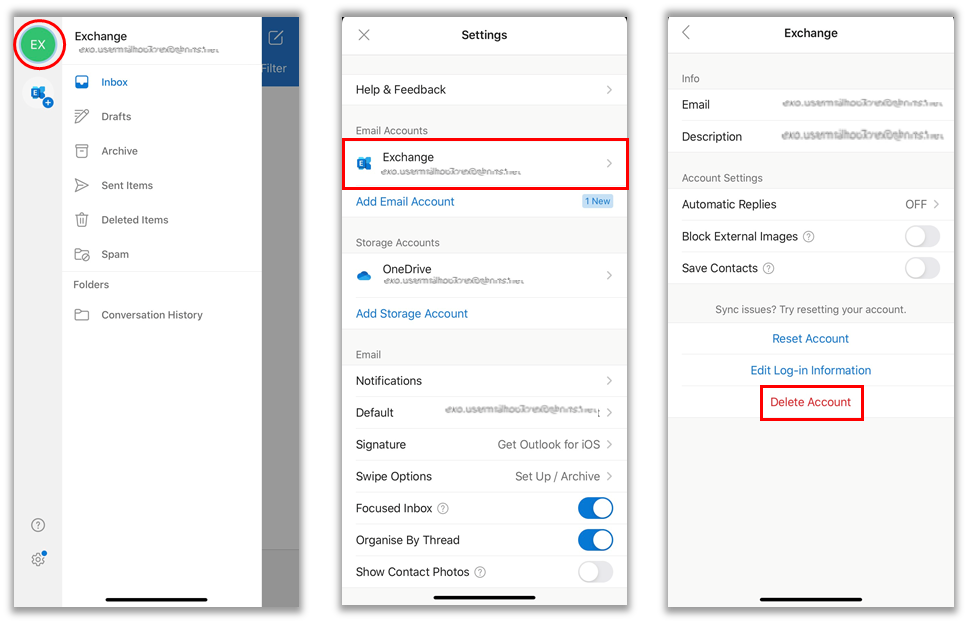 Select 'Delete'
The next step will vary depending on if you have multiple different accounts on your Outlook application. If your NHSmail account was the only account on the application, you'll be immediately prompted to add a new one. If you have multiple accounts, you'll need to navigate back and click on the cog icon
Re-enter your NHSmail email address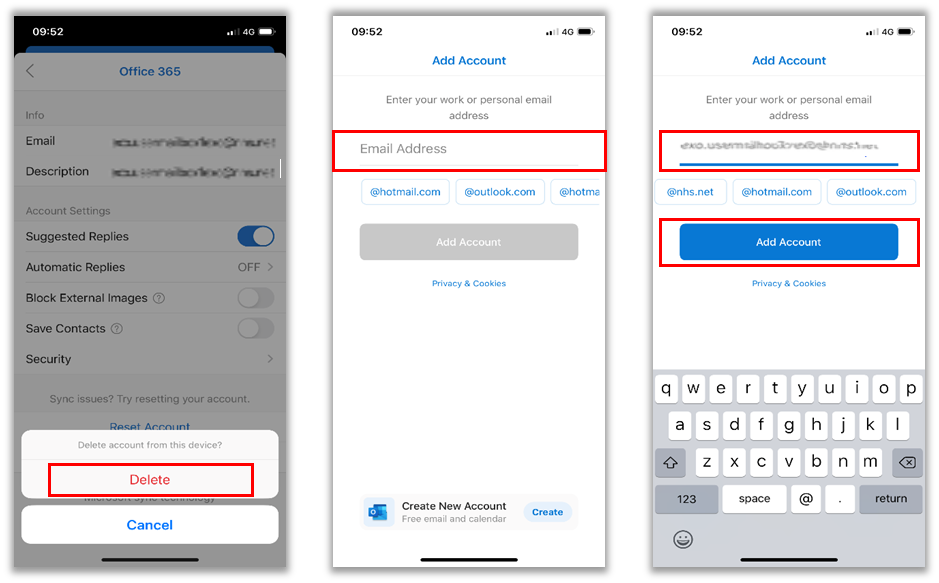 You'll be taken to the NHS login page
Enter your normal credentials
Click 'Maybe Later' – you should now start to receive your emails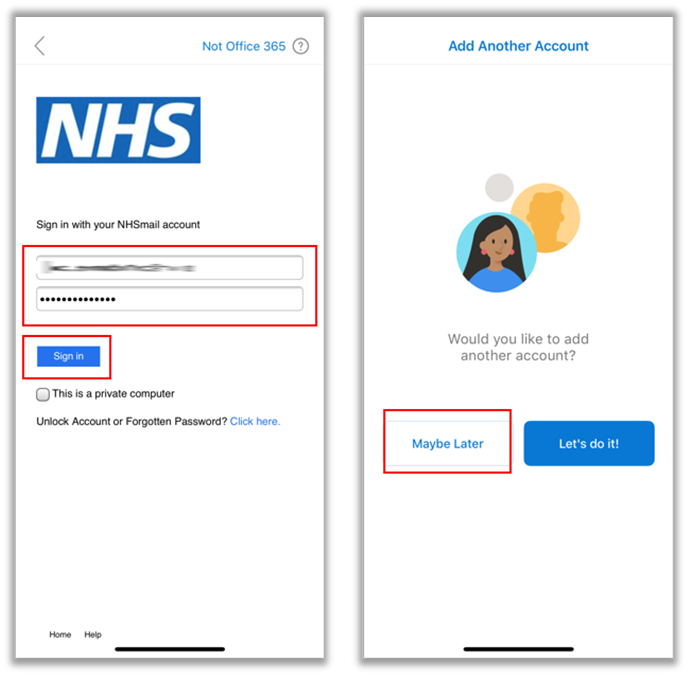 Using an Android Device:
Open your Outlook application on your phone
Select the your NHSmail account by clicking on the account icon on the top left-hand corner of the screen
This will open out a new pane, click the cog icon at the bottom of the screen
This will show all your email accounts
Click into your NHSmail account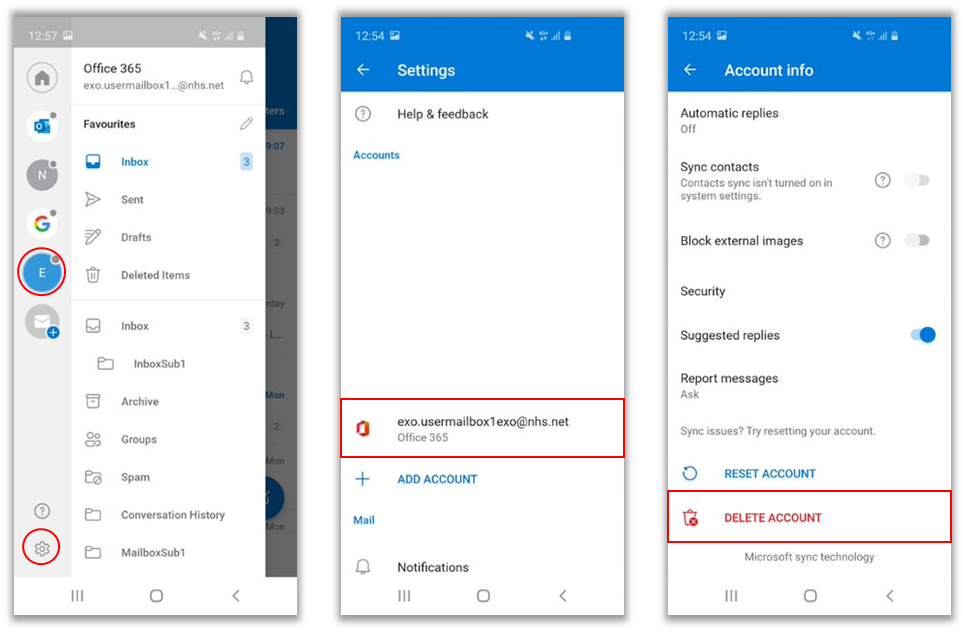 Select the option to 'Delete Account' – don't worry this will just delete if from the mobile application
Select 'Delete'
The next step will vary depending on if you have multiple different accounts on your Outlook application. If your NHSmail account was the only account on the application, you'll be immediately prompted to add a new one. If you have multiple accounts, you'll need to navigate back and click on the cog icon
Re-enter your NHSmail email address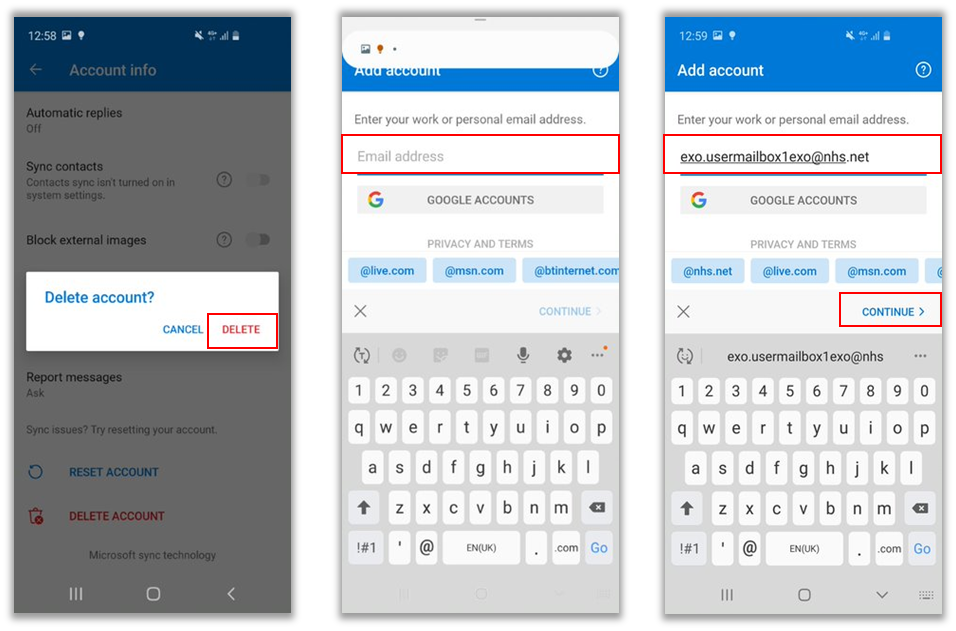 You'll be taken to the NHS login page
Enter your normal credentials
Click 'Sign in'