NHSmail: The year we had, in facts & figures
Over the course of 2020, the NHSmail service has clocked up some impressive facts & figures which we'd like to share with you:
 Local Administrator Webinars
The Local Administrator Webinars started in April 2020, since then we have hosted 36 hours of webinars, supporting organisations with both the roll out of Teams and the migration to Exchange Online.
These changes have led to over a 100 documents and articles being both created and updated to support our users with these roll outs. Further detail can be found on the NHSmail support pages.
NHSmail achievements
To support the COVID response, the fast track process was set up to onboard organisations onto NHSmail and since May 2020, 13,802 sites have been set up for Social Care and 2,131 sites set up for Optometry
NHS Digital, Accenture and Healthy London Partnership won an award for "Best Consultancy Partnership with the NHS" at the HSJ Partnership Awards.
We have now also been shortlisted for an HSJ award 'HSJ Partnership of the Year' with results to be announced March 2021
NHSmail Refresh
During the migrations to Exchange Online:
Just over 1.95 million mailboxes have been migrated
This is approximately 1.98 petabytes of data
These figures will increase as we reach the final stages of the migrations over the January period.
 Microsoft Teams
 Since Microsoft Teams was made available on 23 March, we have supported over:
Chats Messages: 108,811,363
Meetings: 24,288,376
Calls: 10,509,814
Road Map: Future developments
Please find below a high level roadmap detailing the current capabilities available on the NHSmail tenant, and a look ahead to the new services and capabilities being implemented in the first half of 2021.
These have been split into lower level views specifically for Identity, Security and Services capabilities, please visit the support site for more detail. This is intended to outline our immediate strategy to enable the digital progression for the NHSmail shared tenant, and the capabilities enabled through the N365 licensing deal.
Any questions around any components included or absent can be directed to the feedback@nhs.net mailbox.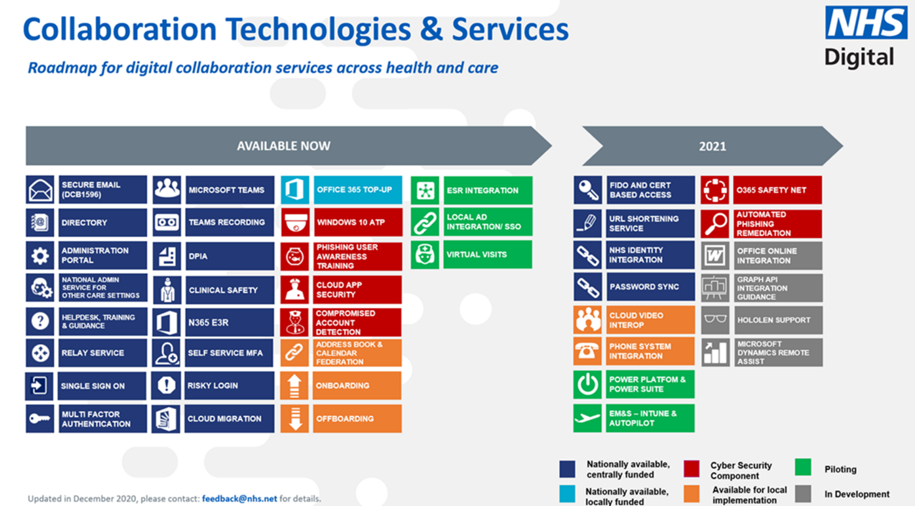 End of year sign off:
Big thanks go out to the extended support teams of NHSmail Administrators and SMEs who have helped change the landscape across the wider health and care system. Together we have introduced new and exciting tools which will help to enable more people to securely connect, communicate and collaborate than ever before.
The NHSmail Live Service team are at the centre of this work to drive through the vision with support of our managed service partners, Accenture. We all recognise that the success of the changes we are implementing are dependent on the professionalism and commitment that this community brings to the delivery of this vision every day.
Thank you from the NHSmail Live Service team for all your support throughout 2020. We look forward to working with you all to build on this great start throughout 2021.
John McGhie & Chris Parsons
Terms and Conditions
NHSmail is provided by NHS Digital
in partnership with Accenture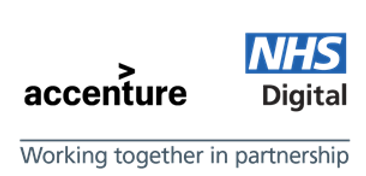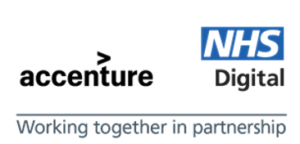 | | |
| --- | --- |
| Last Reviewed Date | 21/12/2020 |