By Jon Carter (Dorset HealthCare), Andrew Harrison (Dorset HealthCare), Adrian Moss (Dorset HealthCare), Paul James (Dorset HealthCare), Deborah Enwright (Dorset HealthCare), Aisha Dautova (NHSmail CoE) and Michelle Vizard (NHSmail CoE)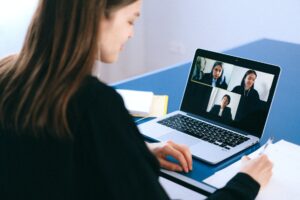 Dorset HealthCare University NHS Foundation Trust started the rollout of Microsoft Office 365 (O365) for adoption across the whole Trust in November 2020. A collaborative Project and Technical Implementation team was established to lead the adoption from the technical point of view.
We spoke to some of the team to understand what activities they have been involved in as part of the technical rollout, what challenges they overcame, and lessons they learned.
Who has been involved in the rollout from the Technical Team?
Our team includes a Senior IT Infrastructure Engineer (End-User Compute Solutions), who is our Team Lead, a Senior IT Infrastructure Engineer (Server and Storage Solutions), four IT Infrastructure Engineers, two Desktop Technicians, an IT Service Operations Manager, O365 Service Desk Team Leader and four O365 Helpdesk Analysts.
What were the team's main activities prior to the rollout?
The team was involved in wide-ranging work prior to November 2020 that enabled the Office 365 rollout to begin. The project team had weekly meetings, along with preparing governance documentation and developing a business case for the O365 rollout.
From the technical point of view, the rollout process began with building a detailed understanding of the O365 capabilities offered through NHSmail and the value they could bring to different parts of our organisation. As part of this, we created a database detailing all O365 applications and services, helping us to make decisions on which products should be deployed to our users initially. Our database also guided our exploration of additional products that might be required.
From the service design point of view, it was important for us to build a detailed understanding of the people working in our organisation. To effectively plan the rollout, we needed to understand their contexts, needs and goals.
Our deployment method for the agreed O365 applications and services included four main stages. The initial stage was the silent deployment of O365 to all workstation devices. We then undertook a 'proof of concept' within our own team to test how O365 functioned. Our next deployment stage was the pilot rollout with 300 staff within our organisation. Following a successful pilot, we started the rollout for all members of staff.
Could you tell us more about the 'proof of concept' (PoC) work?
During the 'proof of concept', we tested the licensing assignments, removed all existing Office applications from the laptops and desktops of those involved in the PoC, and installed the new O365 apps. We migrated any user-specific data, such as signatures and templates, and made sure that the individuals could sign in and access them again. As part of the PoC, we learned the differences between O365 on laptops and desktops and checked how it would work for our colleagues at home, as well as when they were in the office.
Could you describe your experience with the pilot rollout?
Our pilot rollout included 300 staff and took place in spring 2021. During the pilot, we migrated the Microsoft Access Databases and tested how the critical clinical applications and electronic patient record systems, which are used at our Trust, would work with O365. We set up a temporary O365 Support Desk with one team lead and four helpdesk staff. The pilot played an important role, as it allowed us to test how O365 works in practice and receive feedback on our support. The pilot participants' feedback on what worked well and where they needed additional help was invaluable, as it helped us shape the project going forward.
Could you tell us about the rollout to all users?
A while prior to the rollout for all users, we had silently deployed the O365 core package to all workstation devices, but the users were still working on existing software. When it was time for the rollout, the staff received a pop-up which our team had developed, asking users to install O365 and offering them guidance on how to do that. The staff were also notified that after 30 days the software would install automatically.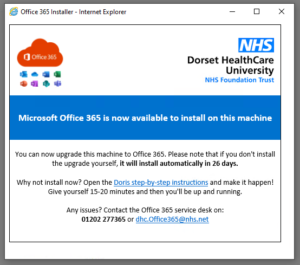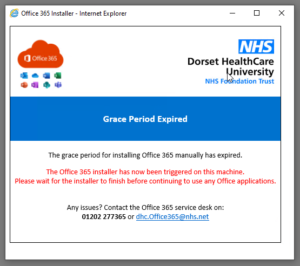 What is the Project and Technical team involved in now and how will your work continue in the future?
As part of the rollout's second phase, we have been moving beyond the basic enablement of O365. The software has a wide range of offerings and our task now is to prioritise which applications and services should be enabled and when. Our team will continue to investigate the opportunities and expand our understanding of how this new technology can support our teams at Dorset HealthCare. This means looking beyond the software itself and understanding its potential use cases in the context of our existing processes and systems. Our goal is to ensure that we make the most effective use of the software, while focusing on its practicality for the people working across our organisation.
What was key to your success?
The team's collaborative and growth mindset has been key in moving the project forward. The team has relied on our technical understanding, while being eager to learn and develop. We have worked closely with the Comms & Training, Information Governance and Clinical Safety teams who are also part of the rollout. We engaged with various stakeholders and subject matter experts from across the organisation, NHS Digital and our Microsoft Customer Success Manager. Everyone involved contributed their expertise in a meaningful and balanced way.
It was also important that we received reasonable resources for the project, which allowed us to establish a dedicated O365 phone desk and recruit temporary staff to support the project.
What challenges did you face?
We have faced numerous challenges throughout the rollout. For example, the Covid-19 pandemic affected the organisation's operational priorities and made it difficult for us to directly approach users.
One significant challenge we did not foresee has been engaging the clinical team, given their workloads, time constraints and operational priorities. The engagement of the clinical staff from the early stages of the rollout would have driven our understanding of the clinical applications of O365. It would have valuably informed our rollout strategy and helped us understand what clinicians at Dorset HealthCare want and need from collaborative tools offered as part of O365. This early understanding would have prevented some rework later in the process. Having faced this challenge, we learned that clinical involvement needs to be planned much in advance. Senior management's support is important in ensuring that the clinical staff have capacity for project work. Our team hopes to engage more with the clinical team in the second phase of the rollout.
Another challenge we faced was running the O365 rollout project at the same time as upgrading everyone in the organisation to Windows 10 20H2, which put additional IT demands on the users.

What are your top tips for other organisations?
Plan early and involve your whole IT department from the beginning
Ensure separate resources upfront if required
Engage the clinical team early on. Include a clinical engagement lead in the rollout team, such as a Chief Nursing Informatics Officer (CNIO)
Commit to a user-centred approach by understanding user profiles, needs and use cases
Consider your organisation's IT infrastructure, including available devices and software
Think holistically and work collaboratively with other teams and subject matter experts involved in the project
Engage with your Microsoft Customer Success Manager

Learn more about the O365 rollout at Dorset HealthCare in our other articles: Supporting our Office 365 Rollout with Training and Comms & Developing the Clinical Safety Case for our Office 365 Rollout.
Find more tools and guidance to help you.
| | |
| --- | --- |
| Last Reviewed Date | 24/12/2021 |