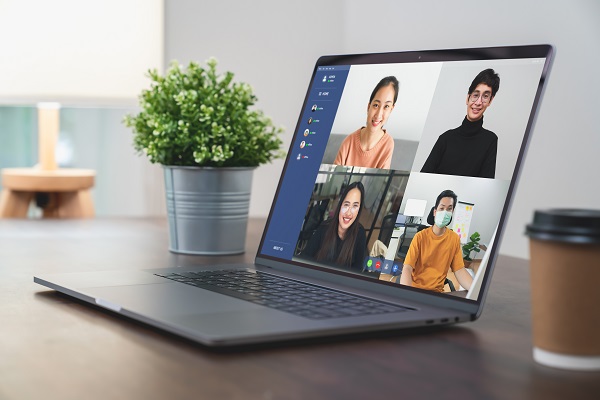 App library
There are a range of different Microsoft and third-party apps available to integrate with teams.  These apps can be found in the app library.
The mini app library
A mini app library can be seen by selecting more options from the main menu on the left. You can use an installed app by clicking one in the list or Find an app and add it using the search bar at the top of the pane.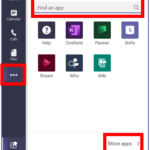 This view is useful for quickly adding an app you know the name of. To see more apps in the full app library, click on More apps at the bottom right of the pane.
The full app library

To access the full app library, click on the Apps button towards the bottom of the main menu.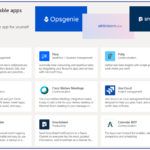 Here, you can explore all the apps available for a certain task and search for them using the Search all bar in the top left corner or filter down the type of app using the categories beneath it.
Popular apps
OneNote
Like many other Office apps, OneNote integrates well with Teams.  You can read and edit a OneNote Notebook in Teams.
When added to the main menu, you can use the OneNote app to explore all of your personal Notebooks.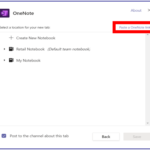 You can also turn a notebook from your personal OneDrive or a team into a tab. When creating a OneNote tab, you can choose which notebook to show by using a link to a notebook and using paste a OneNote link or choosing from the list of most recently accessed notebooks.
Planner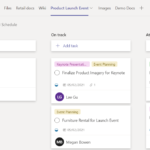 Planner is a Microsoft 365 service that lets you create boards containing all your team's tasks and assignments.
In a Planner tab, you can perform the basic Planner actions, such as adding buckets, tasks and assignments.
When adding a planner tab, you can: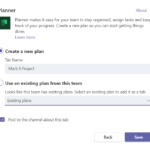 Create a new plan.
Use an existing plan from this team and select an existing Planner board from the drop down.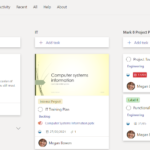 You can also add a personal planner app to the main menu. On the My Tasks tab, you can see all of the tasks assigned to you across every plan you're a part of. The Recent and All tabs show you Teams-created plans you've recently looked at and a list of all plans you're a part of in Teams.
Stream
Microsoft Stream is a video service for businesses that is highly secure and free of ads and sponsored content
When adding a Stream tab, you can choose what content to show pasting a link to or searching the name of: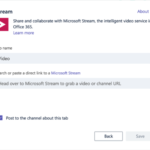 A Microsoft Stream video.
A Microsoft Stream channel.
A video on Office 365 Video.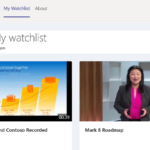 Stream is where any meeting recordings are stored. You can also add the personal app to the main menu, which shows you your watch-list and allows you to view any of these videos in teams.
SharePoint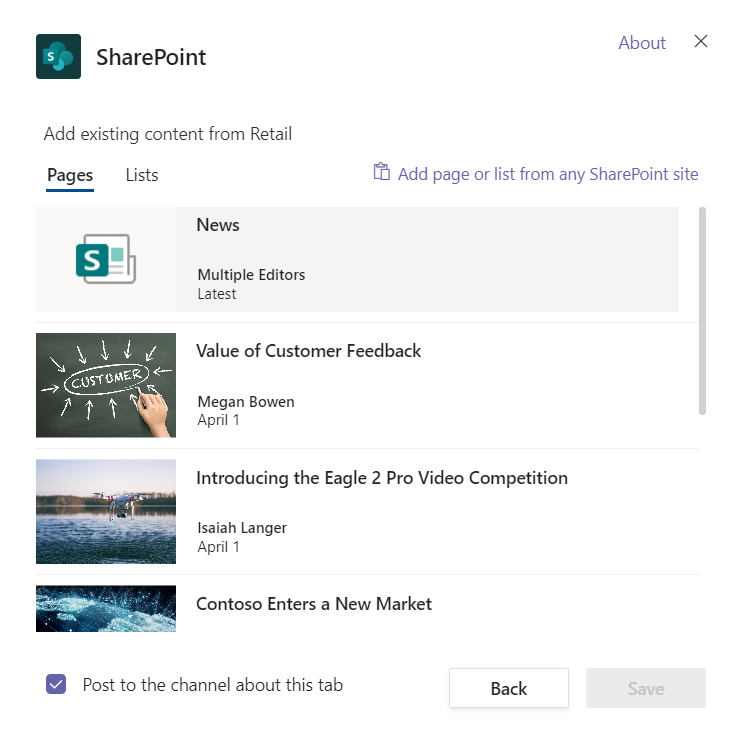 You can add a SharePoint list, page or document library as a tab.
To create a page or list tab, click the SharePoint option when choosing a which new tab to add. You can choose a page or list from ones that are already in your team or add page or list from any SharePoint site.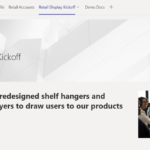 Similar options are available when adding a Document Library.
Lists and document libraries can be edited in Teams, but pages are read only.
Pinning and removing apps
Pin or remove an app
Top tips
Some apps are set to be included to your Teams menu by your admin so you might not be able to unpin them – they will keep popping back!
You can pin apps to both the menu bar as well as chats and channels
Pinning an app to the main menu and in a team can have different functions i.e. having a planner tab in a channel gives everyone access to the tasks but adding it to the main menu will show you only tasks that are assigned to you
When you pin an app to the main menu it will remain there and be visible until removed.
When you pin an app in a chat or posts tab, the app icon sits under the message box.
To pin an app select more option, right click on the app you want to pin to the main menu and select pin.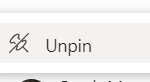 To unpin or uninstall an app right-click and select unpin or uninstall.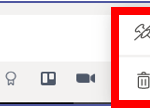 You can use the same method to pin, unpin or uninstall apps in a channel.
Adding apps and tabs
Adding a tab in a channel or a chat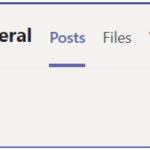 Navigate to the relevant channel and click on the add a tab button shown as a plus sign from the tabs space.  It should be to the right of posts, files and Wiki.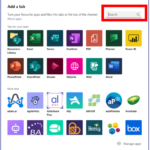 Use the Search bar to look for the app you want to add or choose from the list below if it is visible. Click on the chosen app, fill in the app specifics on the next page and page and Save.

Apps from the messaging area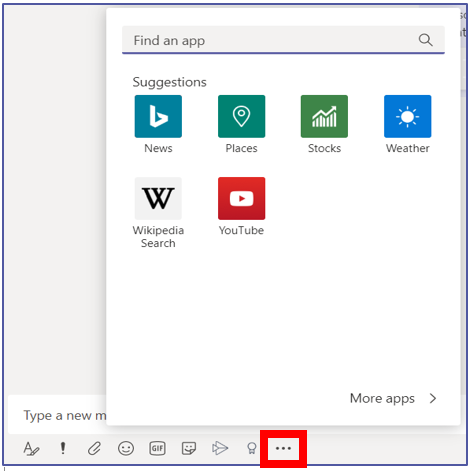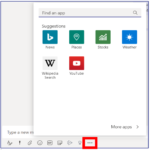 Some apps let you insert content from the app directly into Teams messages. To add one, select the three dots beneath the box where you type a message and choose an app.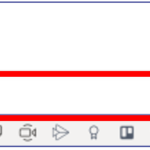 Another way to add apps is to type @ in the box then click Get bots. Bots provide answers, updates, and assistance when you chat with them one-on-one or in channels.
Add app notifications to a channel
A feature called a connector inserts app notifications into a channel. For example, you can add a forms connector to post a notification in a channel whenever a form is completed.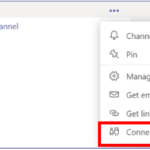 To set one up, go to the channel you want, select more options (the three dots), then select Connectors.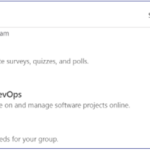 You will be given the option to configure notifications for any app already added to your team.  From here you can also add a new app.
Managing apps and tabs
Removing tabs in a channel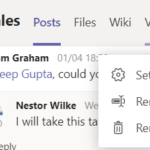 Select a tab and rename or remove it. You can also change the content displayed in the tab by clicking on Settings.
Note: You cannot remove the posts or files tabs.
Manage apps in a team
To see what apps have been added to a certain team or chat: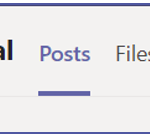 Click on the add a tab button shown as a plus sign.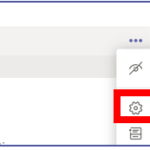 Then click Manage Apps in the bottom right corner of the pane.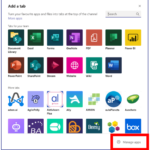 In a channel, you can access get this page by right-clicking and selecting Manage team and clicking on the Apps tab. Here, you can see the apps and uninstall them using the bin.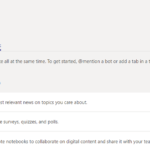 Manage apps in a chat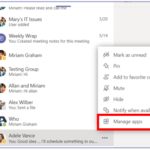 In a chat you can go directly to managing apps by right-clicking on a chat or selecting more options and manage apps.
| | |
| --- | --- |
| Last Reviewed Date | 3/7/2020 |