Sending Voice Notes
The Voice Note functionality within the Teams mobile app allows users to record and send Voice Notes to individual or group chats.
This is particularly useful when you need to send messages on-the-go and to share snippets of information quickly, where phone calls might not be necessary!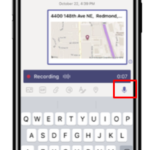 In the app, select the person/group you want to contact. Then hold down the microphone icon on the keypad to record your message. Release the mic when you have finished recording and press 'send'.
You can listen to a Voice Note from a mobile, a desktop and web apps.
| | |
| --- | --- |
| Last Reviewed Date | 6/5/2020 |