This article provides guidance on how to enrol a Microsoft Surface Hub device onto NHSmail Intune. To import your Surface Hub onto NHSmail Intune, the Intune Local Administrator for your organisation should first raise a service request with the Intune Live Service Team. This can be done via Helpdesk Self-Service.
Raising a Service Request with the Intune Live Service Team
When you are raise a request for your Surface Hub device/s to be enrolled onto the NHSmail Intune central tenant, you will need to provide the device type, for example; 'Surface Hub 2s' and the device ID. You can find the device ID by following the steps below:
1. Select the Windows start button located in the middle of the screen, and then navigate to the 'About' section of your Surface Hub device.
2. Select the search option and enter 'About your PC'.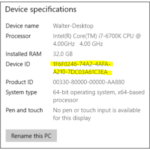 3. In the 'About' section, you will see the hardware ID. An example is highlighted in the screen.
| | |
| --- | --- |
| Last Reviewed Date | 15/11/2022 |