Issue Description
If a user has not accepted AUP they will be blocked and when attempting to send an email to an existing address, a non-delivery report will be received stating that "You must accept the Acceptable Use Policy".
An example of the message received within the non-delivery report shown below: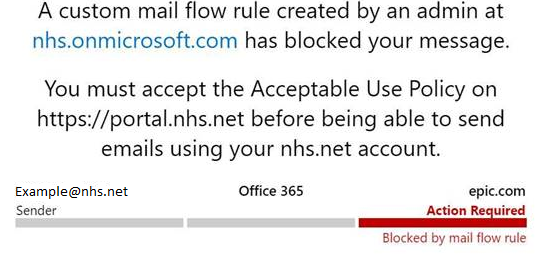 This kind of non-delivery report is received when the user attempts to send emails without agreeing to the AUP and setting security questions in Portal. Users need to accept the AUP and set security questions before being able to send emails – otherwise will receive the error above when sending emails.
Once AUP has been accepted users should be able to send emails again within 24 hours. On occasions users may still not be able to send emails due to being in two AUP groups and only being removed from one.
Latest Update and Guidance
This issue is being investigated under PRB0172508.
If you are still unable to send emails after 24 hours since accepting AUP then please raise a request with the NHSmail Helpdesk (helpdesk@nhs.net) for further investigation.