Issue Description
We are aware of an issue where newly created accounts are not being allocated a license. Where this issue occurs, newly created user accounts may receive the error message below when trying to use the Microsoft Teams application.
Error: "You're missing out! Ask your admin to enable Microsoft Teams for NHS."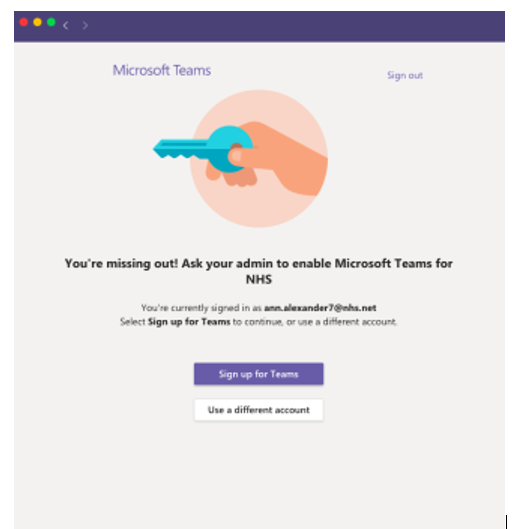 Latest Update and Guidance
NHSmail engineers are currently working with Microsoft to resolve the issue as soon as possible. This issue is being investigated under PRB0175263. Your patience is appreciated.
Work Around
Local Administrator should complete a blank User details update via the Portal to perform an account reconciliation. This should resolve the issue.
To perform a blank update on a user's account:
1. Click Admin in the navigation bar at the top of the screen and select User Management from the drop down menu

Use the search box to find the user's account you wish to edit
Refer to the Searching for an Entry article for more information
Click on the user's Display Name to open the User Details Page
Click Update at the bottom of the page

The following message will be displayed: