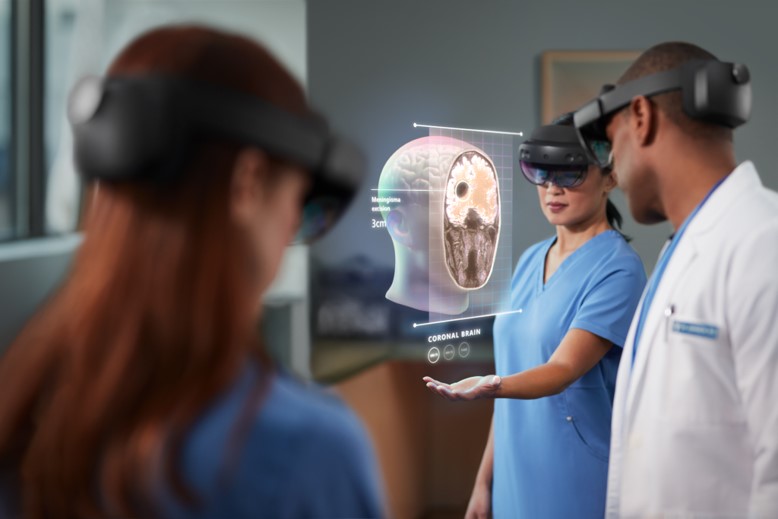 Introduction
This guidance will help Local Administrators (LAs) understand the process for onboarding HoloLens 2 devices into Intune in the NHSmail tenant and using Dynamics 365 Remote Assist. It is targeted for Local Administrators who are familiar with HoloLens 2 devices and will be managing the onboarding and maintenance of these devices in Intune.
Throughout this guidance yellow text boxes will be used to highlight important notes for your awareness and critical notes that may require you to take action.
This guide will help you understand the steps you need to take to enrol HoloLens 2 devices in Intune as well as where to find the relevant information regarding each step within the NHSmail support pages.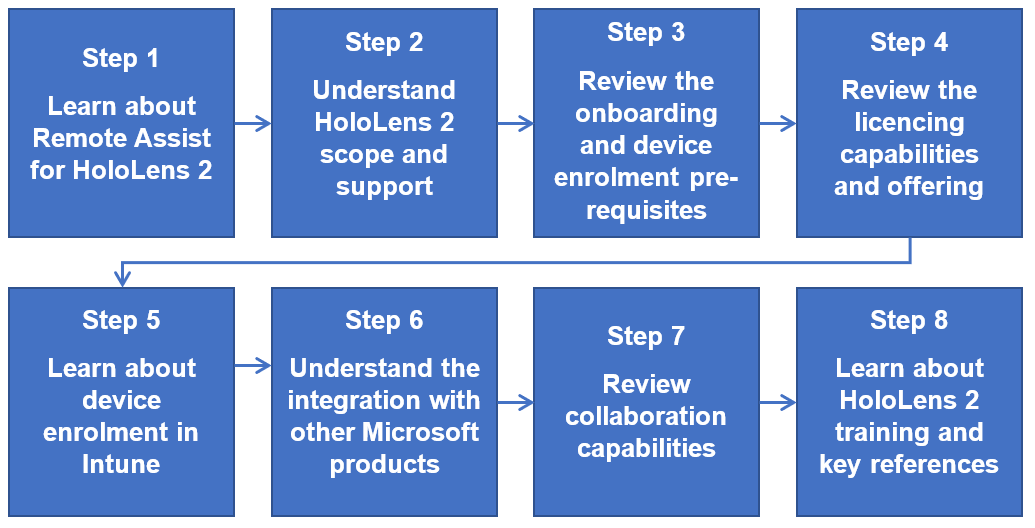 Step 1: Learn about Remote Assist for HoloLens 2 (this article)
Step 2: Understand HoloLens 2 scope and support
Step 3: Review the onboarding and device enrolment pre-requisites
Step 4: Review the licencing capabilities and offering
Step 5: Learn about device enrolment in Intune
Step 6: Understand the integration with other Microsoft products
Step 7: Review collaboration capabilities
Step 8: Learn about HoloLens 2 training and key references
High-level overview of the Remote Assist for HoloLens 2 solution
The Dynamics 365 Remote Assist for HoloLens 2 solution will utilise existing NHSmail Azure capabilities, including Azure AD (AAD) and a standardised NHSmail baseline will be set globally across the NHSmail Intune instance. This refers to a set of standardised apps, settings and policies configured and deployed for each technology platform. Please visit the NHSmail Intune Service Overview page for more information.
HoloLens 2 devices are enrolled in Intune and Autopilot on the central tenant, with relevant EM&S Intune licencing (EM&S E3, EM&S E5 or Azure AD Premium P2) (article coming soon) and Dynamics 365 Remote Assist User Licencing to be assigned accordingly. Windows Autopilot is a collection of technologies used to set up and pre-configure new HoloLens 2 devices, getting them ready for productive use. Autopilot can also be used to reset, repurpose and recover devices. This solution results in little to no infrastructure management, with a process that is easy and simple.
When enrolled, users will be able to login to Dynamics 365 Remote Assist app with their NHSmail credentials. The high-level design is illustrated in the diagram below.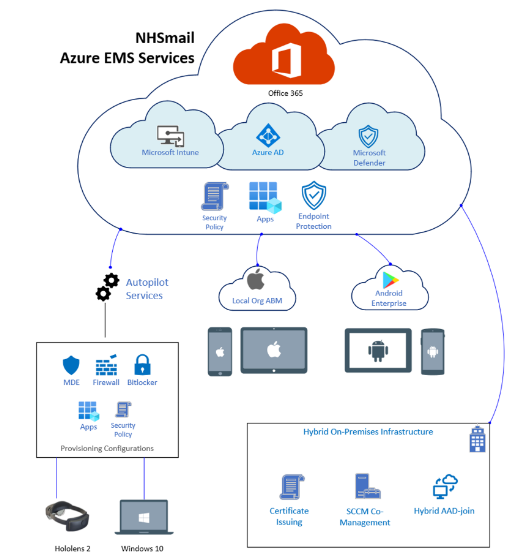 | | |
| --- | --- |
| Last Reviewed Date | 15/11/2022 |